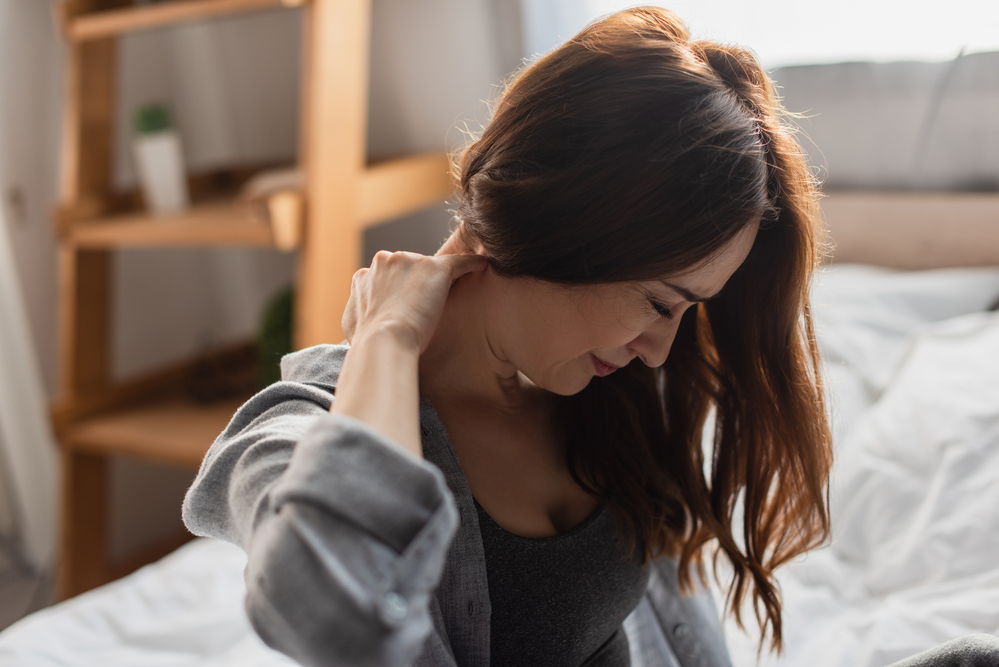 The Best Sleeping Position for Neck Pain, Pinched Nerves, & Arm
September 3, 2022
Are Digital Devices To Blame for Neck Pain?
September 15, 2022
Whiplash is one of the most common car accident injuries that can happen to anyone. It's not only painful but it can also lead to long-lasting symptoms like chronic neck pain, arm pain, and headaches. Those experiencing whiplash symptoms after a recent auto collision should avoid certain movements and do exercises that will help with recovery.
There are several things a person can do to take care of themselves while recovering from whiplash, including:
Taking it easy for the first few weeks
Spending time with friends and family instead of working
Getting plenty of rest by going out less often and getting more sleep at night
Eating healthier foods that will help the body heal — fruits and vegetables should be part of the diet
Seeking medical attention for any injuries sustained in the crash. It's important to talk to a doctor about having physical therapy sessions. They can give instructions on how to do certain exercises and stay healthy. These medical professionals will also strengthen the neck so that it can hold the head up straight.
Wearing a seatbelt at all times when driving or riding in a vehicle
Developing good habits to reduce the pain. For instance, if mobility is impaired, then it's crucial to do small movements daily to improve muscle health.
Moving around. Those working can make it a habit to walk around the office, even if it's just to a colleague's desk. Moving muscles will feel good and relieve the pain that usually accompanies such injuries. However, walking too much without other exercises can also be detrimental.
Treatment experts recommend staying away from these things for better recovery from whiplash injuries:
Heavy lifting or participating in sports until symptoms have subsided
Exercising too much early on can increase pressure around the head, neck, and shoulders
Working too much. It is crucial to take time off from work, if possible, to facilitate proper healing without worsening the condition through bad habits, such as sitting on the couch all day.
Driving. It involves movements that the body may not be ready for while it is recovering.
Wearing a neck brace for too long. While useful, recovery may take longer and result in even more muscle stiffness.
Consulting a physician is the best way to determine which activities and exercises are suited for the recovery period. These professionals can advise their patients when it is safest to return to work, what exercises to do, and what movements to avoid to ensure a speedy recovery.
Whiplash: What Can I Do At Home?
Here are 3 great exercises anybody can do at home for whiplash recovery:
The chin tuck is a good way to make the muscles in the neck stretch. This exercise can be done lying down or sitting up.
To relax the neck, do head rotations. This can also be done while seated or lying down.
Bend the head from side to side to make the neck more mobile.
Conclusion
Whiplash can really affect one's life. Accidents can happen to anyone, and it is essential to take care of oneself to ensure recovery. While the exercises listed above are suitable for home, seeing a professional is still the best option. Recovery is rarely an easy process, so having the right experts for guidance is key to returning to a regular lifestyle.
Here at N8 Family Chiropractic, we recommend getting an assessment for anybody suffering from whiplash. Call us today to schedule a thorough examination!
Read next article
References:
https://bcmj.org/articles/practical-management-whiplash-guide-patients
https://my.clevelandclinic.org/health/diseases/11982-whiplash-neck-strain-neck-sprain
https://www.webmd.com/back-pain/neck-strain-whiplash
https://www.spine-health.com/conditions/neck-pain/whiplash-treatments-and-recovery